mhia
cant resist chocolates.
is terrified of clowns.
has a nasty temper.
wishes to travel.
can be terribly sensitive.
loves to pamper herself.
is the sweetest mean gurl ull ever meet.
Sunday, November 19, 2006
here
just makes it easier having everything there
gonna miss my blogdrive account though!
Wednesday, November 15, 2006
i went to the restroom of this building.. and the cubicles are locked by twisting the lock in the doorknob
i was about to get out of my cubicle.. and i could not get the door to open!! i tried pushing the door, kept trying to unlock the doorknob, twisting it over and over again, but to no avail!!

so i..?

a. climbed up the door and jumped over to the other side
b. crawled underneath the door to get out
c. shouted and banged the door for help until the security guard came to rescue me

now i'm not telling u what i did :P
but believe me it's one of those three


Sunday, November 05, 2006
~ it's the start of a new fiscal year, and our clothing benefits have refreshed. hellooo shops! :D i reckon i'll be reimbursing the full amount not later than this month, heehee.
~ i wanna check out the different
bazaars
! i just love, love christmas shopping! :) getting giddy just thinking about it.
~ i have discovered a new addiction. online shopping! i actually managed to spend P1000+ in one sitting. in less than 10 minutes. this is bad.. haha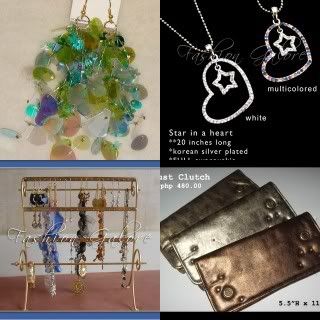 earrings by
flatterbuy
necklace and jewelry holder by
fashiongalore
clutch by
fashionastashaven
i'm guessing my savings account will be starving the next couple of months.
Wednesday, November 01, 2006
we have this initiative at work called
Out Of Office Fun
(
OOOF! hehe kulit noh?)
which organizes fun activities for the team, like bowling tournaments, videoke challenges, etc. and for the month of october, we decided to hold a
Scavenger Hunt
(
and i say we because i'm actually heading this initiative, hehe. together with mai
). i wanted to join, so sabi ko, wag sila sakn mag-update ng plans heehee.
ben, mike, becca, and i formed a team. and when we received the list of things we were supposed to submit, my first thought was "
what the..!
" and i think it was mike who said, "
pwedeng pumatay?
" i thought we were just supposed to look for odd objects or whatever. ineexpect ko, literal na listahan. but nooooo.. the list contained clues that u had to figure out. tapos ung ibang items nman, nkatago daw sumwer sa office, and we had to look for them. kainis!!! anhirap kaya! pero syempre, game pa rin kami!
there were 2 other teams playing (
well actually, 3 dpat. pero ung isang team ata ndi n naglaro
) and it was on! it was soo funny kasi we were so competitive!
(or wait, baka ako lang. hahaha!
) trashtalking, psyching out the other players, holding out on information..nakakatawa tlga!
here are a couple of the items we had to come up with: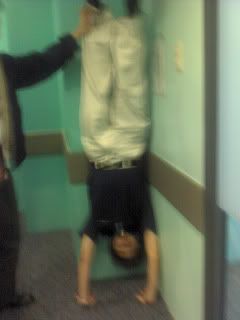 a picture of your teammate doing a handstand (
go ben!
)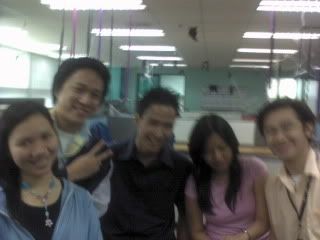 a picture of your group with a real celebrity. (
that's robert, our officemate, he appeared in first day high! odbah! d n kelangan magfotoshop! hwehehe
)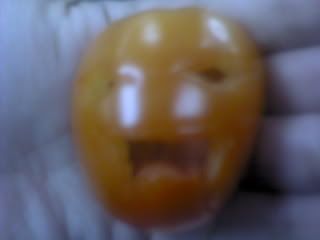 an ignis fatuus made from a tomato (
ignis whattt?
)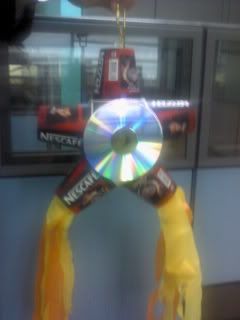 a parol made out of used nescafe cofee cups (
yes, mabilis naubos ung coffee cups nung araw n un, hahaha!
)
we also had to record a 1-minute performace of a novelty song in one of the conference rooms, and we had to drag 2 other people to join us. (
aba syempre dko na papakita ung video noh!
). and then there was this one elusive item: a pink jackstone hidden sumwer in d pantry (
binigyan n kmi ng clue kc wala tlgang makakita
). hinalughog na yung buong pantry, wala pa rin! as in kulang n lng pati ung basurahan kalkalin! (
o wait, may gumawa nga ata nun. nyahaha!
)
so we gave up looking for that stupid jackstone (
1 pt lng nman kc noh!
) and decided to submit our items early to earn the bonus 4 pts. we got 38 pts (
out of 40
), and
we won!
woohoohoo!!!
and u know kng saan nila tinago ung jackstone? sa ref! sa loob ng isang baunan! i mean hellooooo. sino b naman mgbubukas ng baunan ng ibang tao dbah! kulang pa pala ung pagiging competitive nmin, hahaha!
Sunday, October 08, 2006
guess what, i'm finally working again. well for those of u who didn't know, i have been doing absolutely nothing the past
2 to 3 months
. no, not by choice. there hasn't been any active work in the project i've been assigned to. a few process initiatives here and there plus extra-curricular activities (
which don't really count as work
), and thats it. so for the past few months i have been going to the office, checking my mails, surfing the net, and being bored out of my mind. no, i don't think u'd want to trade places with me. a couple of days maybe, but 2 whole months?! not exactly motivational is it. frustrating and uninspiring is what it is. and now, i'm actually doing work again (
parang d na nga ako sanay eh
).
"grabe, big deal!"


so yes, u can say i'm unhappy with my work. and no, i don't care if my officemates can read this (
as if some of 'em didn't know already
), or even my manager. i am unhappy, and i want to be heard. but there is one good thing about this all - i've finally realized what it is i want to do. i've finally decided to take charge. nothing's gonna happen if i don't make them happen. i've set my plan, and i've taken some steps already. believe me, i don't want to be stuck doing nothing, or even something i didn't like. i've woken up, and i consider it a proud moment.
Tuesday, September 12, 2006
since i last had a massage
or went to the spa, for that matter. my suriya membership already expired last june, and i want to go and try out other spas. i guess i just hadn't found the time. but 3 months? that is just too sad. any recommendations, anyone?
since i found a book i fell in love with
the kind that just captivates u. the one u stay up all night reading because u just can't put it down. i've read some good books lately, but none that really struck my core, u know?
since i cleaned my room
ah yes, a task i have been putting off for
weeks
months
, err, way too long. there's books lying around (
pocketbooks alright? not school books!
), receipts and bills strewn everywhere, and a handful of stuff that i don't even know what to do with. i always say i'm going to do it on a Sunday, but i always end up watching tv instead. and i'm thinking it's probably gonna take more than a day. but geez, i really do need to start somewhere.
since i hung out with my camella friends
i ran into 2 of 'em recently, and let me tell u, i don't remember the last time we spoke or saw each other. i didn't even know some of my friends were working already (
and i asked her when she was graduating, talk about embarrassing
). and i bet they don't even know jasper and i got back together. i am so out of touch with these people!
since i felt i accomplished something great
ask me the biggest obstacle i overcame, and i still say, i don't know, my thesis? i mean come on, i don't want to be stuck forever in my student life, going
"oh those were my glory days!"
(
and really, it's not like i was that great anyway. but that's a whole other topic, and i'm not gonna get into that right now
). i guess i just never realized how much i craved a challenge (
yes i do know u have to be careful what u wish for
). hey, i just wanna be able to show what i can do.
since i did something spontaneous
do i ever? i guess i've never been the type. well i am an impulsive shopper, spur-of-the-moment buys are my weakness, but i don't suppose those count at all. i'm pretty much the
everything has to be well planned out
type. ah, but i, too, crave adventure.
Sunday, September 03, 2006
im really sleepy now so ill just make this short and sweet
id like to thank
vlamir
, my
former
officemate, for inviting us all to spend the weekend at
fontana
, pampanga. not everything went as planned (
naku ndi nasunod ung schedule ni vlammy! wehe
), but it really doesn't matter (
kami p nga dpat mahiya coz he went to all this trouble for us
) because we all had such fun! good food, good company. really, what else do u need? and hey, not to mention the new experiences we gained (
oh say getting stranded in d middle of NLEX and being towed (adventure!)
,
or discovering an officemate can not only imitate piglet pero kaya din pala nya magmukhang aswang, or even struggling not to drown at the wave pool
). good times! :D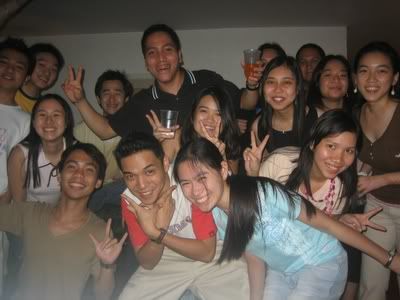 more pics
here
we will surely miss our vlammybear! (
o seph, tahan na.. hehe!
)
Saturday, August 19, 2006
finally, the long overdue teambuilding of the qa team! i think we started talking about having one last november or december. after half a year and 3 more members, aba natuloy na rin! so we all took a day off from work (
oops, not all of us.. it's a sensitive topic, ehe
) and headed to laguna :D
our first stop.
enchanted kingdom
! (
uyy second time na nya, hehe
) can i just say that i am so proud of myself. takot p rin ako sa rides but i'm starting to conquer my fear. anchor's away wasn't that traumatic anymore (
uyy no hands! haha
). tapos napasakay nila ko sa space shuttle! (
well, the 2nd round that is. i totally chickened out on d 1st one, wah!
) and sa 1st car pa! grabe ha huge step for me!! (
no hands ulit! este one hand
) and hindi na rin ako nabugbog/nahilo masyado, unlike last time. definitely a big achievement!!
speaking of achievements, sayang ndi ako nanalo dun sa perya games! (
hehe i dont know wat else to call 'em
) arrghhh panalo nako dpat dun sa race eh, na-pressure lng ako haha, wah! andaya nman nung ibang games e, may fine print pa! hmf! at least may stuffed toy ako (
hehe thanx ron
)
as usual, hinilo lng ako ng rialto. u feel exhausted just having to sit thru the stupid ride. brutal ung bumper cars! grabe ung impact kaya haha damn ansakit! pero ang fun kc solo namin hehe. the swan lake experience was uhm, interesting (
for ron, that is
). exxag ung rio grande! last time i remember malas lng ung iba samin, parang may ilang pwesto lng na mababasa ka tlga. this time, hindi eh, wala ka tlgang takas! hehe at least fair. but we were really soaked! buti na lng un hinuli namin.
we didn't stay long. but although we only spent a short time there we had fun experiences nman :)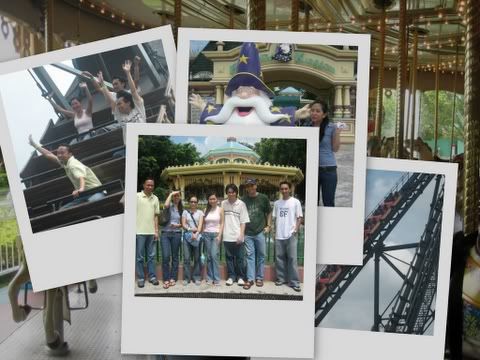 then off to the resthouse in
calamba
. (
i don't know what it's called, basta sa friend ni tanya!
) neat place! we spent the night playing cards (
slam jack ndi slam dunk!
) and monopoly (
bankrupt ako wah!
), swimming in the pool and relaxing in the jacuzzi (
haha damn that jacuzzi! pahirapan!
), drinking (t
anya is quite the bartender
), and of course, talking and dishing out a few anecdotes, and not too mention, secrets! ;) (
anlupit nung ?s ni jona!
)
it was really great that the teambuilding pushed through. and i must say, at the opportune moment. we're getting to know each other more, building closer bonds, and forming a stronger team. we're stepping up and gaining ground. i'm happy for us and proud of the qa team! :)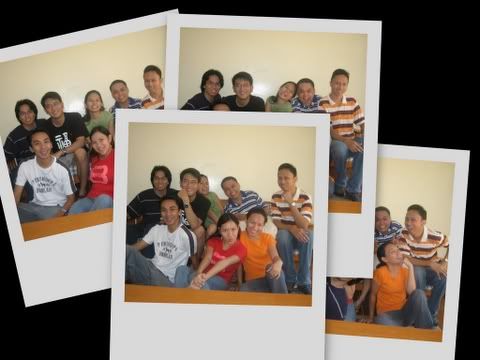 oliver, marty, loise, donald, jona, ron, mia, tanya
Thursday, August 17, 2006
so i signed up for a
multiply
account. why? 'coz i need a new space to store my digital photos. why? well apparently, to remain a member of
myphotoalbum
, u have to make a purchase every 365 days. naturally, im not gonna do that. so i figured, ill just make a new account and upload pics there. i go the site and register, but then i get this alert saying
We do not accept signups from your location.
"ok, that's weird."
i try again, and get the same alert. finally, i click on Terms and Conditions and scan the page. and here is what i found out:
COUNTRY OF ORIGIN.
MyPhotoAlbum reserves the right to restrict access to our servers from areas of the globe with a high level of abusive activity. These areas change periodically based on the origins of this inappropriate activity. The current restriction applies to Belarus, Bosnia-Herzegovina, Bulgaria, China, Egypt, Hong Kong, India, Indonesia, Japan, Malaysia, Moldavia, Morocco, Pakistan, Philippines, Romania, Russian Federation, Saudi Arabia, South Africa, South Korea, Taiwan, Thailand, Turkey, Ukraine, United Arab Emirates, Vietnam, Yugoslavia.
what the?!
boooo!!!
i had no choice but to look for an alternative.
again, booo!!!!
i was thinking of just using my
flickr
account. but i can only make 3 sets :( and i like to organize my photos into albums. finally, i decide to go for multiply instead. unlimited storage, and all.
so add me up ;) (
granted i know hu u are, of course. and we're actually

friends
) oh speaking of which, i just find it in bad taste that u have to define the relationship when adding a contact. it's like saying
"ur just my classmate, ur not my friend,"
or
"ur a co-worker, that's all."
they even have uber specific ones like Ex-Husband, Friend of Family, and Distant Relative. i mean, come on! a bit ridiculous, wouldn't u agree?
Saturday, August 12, 2006
this time i'm not gonna let you slip away
this time i'm not gonna let another day go by
without holding you so tight,
without treating you so right.
this time i'm not gonna let go of your love
this time i promise you that we'll rise above it all
and i will never let you fall,
i'm gonna give you my all,
this time.
*happy anniversary*
i love u baby Ü